Norfolk village to get cheaper sea defences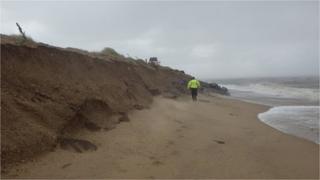 A £3.9m scheme to protect vulnerable homes from the sea in Norfolk has been scrapped in favour of cheaper defences.
Scratby near Great Yarmouth will get a £500,000 scheme but this has been branded "unfair" by the chairman of the parish council.
Geoff Freeman said the holiday industry and residents paid their taxes and homes and business deserved protection.
Great Yarmouth Borough Council said extending the nearby successful large rock sea defences was too expensive.
The large armourstone scheme, called a berm defence, has been installed at nearby Caister and is estimated to have a lifespan of more than 25 years.
A cheaper gabion scheme, using rocks in wire cages, is now being assessed by the Environment Agency.
"This would still give security to residents for up to 25 years," borough coastal manager Bernard Harris said.
He added a draft scheme is being considered by the Environment Agency and a formal submission will be made early next year.
Preferred system
Mr Freeman said treating the people of Scratby in this way was "unfair because the revenues raised by the government from the east coast outweighed defence costs".
"We seem to be the last people to be considered in schemes like this.
"A study costing more than £500,000 was carried out recently into the effects of coastal erosion on the Scratby area. That money should have gone into the pot for defences," he said.
The Environment Agency said: "Generally speaking, on erosive shorelines where wave attack is prevalent, rock armourstone (berms) would be preferable to a gabion basket defence.
"We will base our investment decisions on assessments of flood risk and legal obligations."