Taxi death boy Aiden Vandenborn 'was in middle of A10'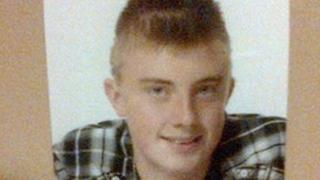 A teenager who died after being struck by a taxi had been walking in the middle of a main road at night, an inquest has heard.
Aiden Miles Vandenborn, of Downham Market, Norfolk, was hit on the A10 shortly after midnight on 14 December. He died later of multiple injuries.
Coroner Jacqueline Lake told King's Lynn County Court that he died as a result of a traffic collision.
She added that the driver Christopher Davies was not to blame for his death.
The inquest heard Aiden had been walking with two friends along the A10 to a petrol station at Bexwell, Downham Market, to buy tobacco.
The hearing was told Louisa Cirillo and Dean Brook had walked on a verge facing on-coming traffic, but Aiden had walked in the middle of the road next to the white line.
Mr Brook said Aiden had been drinking but was "his normal self".
Mr Davies said he did not see anyone in the middle of the road and was "showered with glass" when his windscreen smashed.
He pulled over and found Aiden laying in the road.
Following the 17-year-old's death, a Facebook page set up in his memory was sabotaged by what Norfolk Police said was a "persistent internet troll".
In September, the force said no action would be taken as the perpetrator lived outside the UK.
The page has since been removed.