Dead whale removed from Cromer beach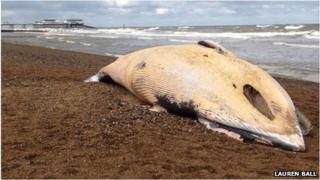 The carcass of a whale that washed up on a Norfolk beach has been removed by officials after concerns the tide would not take it back out to sea.
The 25ft (7.6m) minke whale was found on Cromer East beach on Friday.
Experts from the Cetacean Strandings Investigation Programme, which investigates whale strandings, believe it died at sea several weeks ago.
North Norfolk District Council said the whale was "lifted" from the beach for disposal on Friday night.
A spokesman said: "We'd hoped the tide might take it away, but it's been reducing all week so in the end we felt it just would not be high enough to float it way."
The whale was "safely removed from the beach" about 20:00 GMT, the spokesman said.
It was previously thought that the tide had taken the whale out to sea.