Norfolk taxi crashes through Flour and Bean café window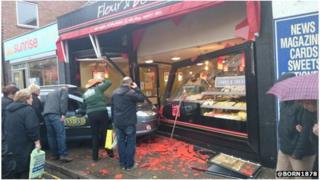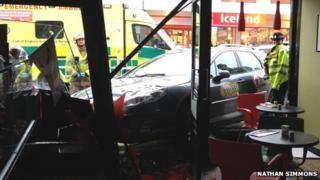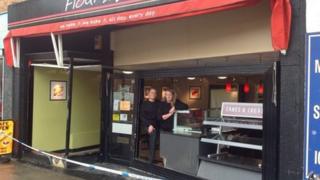 A woman was injured when a taxi ploughed into a bakery shop on a Norfolk high street.
The vehicle smashed into the window of the Flour and Bean café in Gorleston at about 09:30 GMT.
The East of England Ambulance Service said a woman in her 40s was treated for minor injuries at the scene.
A spokesman for Anglia Taxis said the driver, who was not directly employed by them, was not injured.
Kerry Smith, 45, manager of the café, said: "There was an almighty crash.
"We just ran to the back and when we looked round there was a taxi through the front of the shop."
Co-owner Lorraine Laingchild, added: "We have a customer who normally sits in the window, but fortunately sat at the back today. It could have been so much worse."
On Twitter, they said: "We're OK, if rather bewildered and shocked.
"So relieved it wasn't worse and that everyone is intact."
The coffee shop would be "open as usual" on Thursday, they added.
Correction 22 November 2013: This story has been amended to clarify that the injured woman was not a passenger in the taxi, as the BBC was originally informed.