Peterborough Energy Park is risk to taxpayers, says MP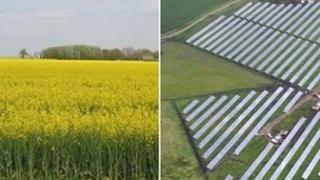 It's full of flaws, subterfuge and a risk to the taxpayer. That's the local MP's verdict on plans for Peterborough Energy Plant.
Stewart Jackson organised a special debate in Westminster to discuss the council's plan to turn 900 acres of farmland near Newborough and Thorney into an energy park.
He told Energy Minister Gregory Barker that the development could jeopardise the city's finances.
"The financial details of the project, other than a generic and speculative outline business case, have never been published; nor have they been audited, analysed or stress tested by any independent entity," he said.
Fellow Cambridgeshire MP Stephen Barclay endorsed his view, saying: "There is real concern about our inability to see the proposed commercial case, which does not look like value for money for the taxpayer."
Mr Jackson warmed to his theme: "The sheer scale of the Peterborough project is of itself a major issue, but the lack of proper consultation, the paucity of proper financial data and conflicts of interest, as well as possibly dubious and ethically questionable conduct by senior officers of Peterborough City Council, make it a wider issue of democracy and accountability and of openness and transparency.
"The Peterborough Energy Park will be the largest such scheme in Europe.
"In all, it will mean the construction of 500,000 glass panels on 900 acres of land -the size of 700 football pitches - some of it the most fertile in England.
"The land is owned by the city council and has been set aside for generations for cultivation of arable crops, such as sugar beet, potatoes and wheat."
'Monster projects'
The Energy Minister, despite acknowledging his 25-year friendship with Mr Jackson, apologised for having to disappoint.
"Let me say that I am a fan of solar, and that I am a champion of the technology. As my honourable friend said, I am strongly committed to rolling out solar across the UK and to driving down its cost, not only to eliminate the need for subsidy."
Although Mr Barker finally proved more sympathetic, saying: "When I hear of monster projects that could turn a popular, intuitive and increasingly affordable technology into something that is unpopular and inappropriate, I become very worried indeed."
The city council insists it is listening and says the plan will mean self sufficiency in energy for future residents of Peterborough.
The government has said it could "call in" the plans if they're given the go-ahead locally and may call a public inquiry.
'Cautious' Council
Peterborough City Council is not happy with what it heard.
Councillor David Seaton says it wants to work with Mr Jackson and "does not recognise" the renewable energy plans that he describes.
He says: "The city council has always been prepared to release any and all information, bar that which is commercially confidential. This remains the case.
"All financial assumptions have erred on the side of caution and been prudent throughout."
He added that the financial models and predictions have been kept under review and are not solely those of the city council, with updated figures recently presented to the Scrutiny Commission for Rural Communities.
The council is keen to emphasise that it has no intention to sell the land but is simply proposing to use it for solar energy for 25 years - that is if the row is over by then.