Norwich Research Park Enterprise Centre: Work begins on low carbon project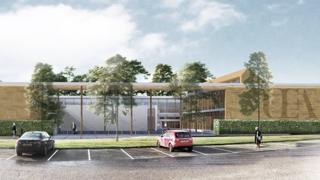 Work has started on a £16m university centre that could generate 250 jobs and be one of the most energy efficient commercial buildings in the UK.
The Enterprise Centre, at Norwich's University of East Anglia, will allow students to work with commercial teams to encourage new start-up ventures.
In addition to creating jobs, the centre will also provide advice and support to more than 600 businesses.
The centre is due to open in January 2015.
Project director John French said: "This project is a first in the UK university and business sectors.
"As well as further advancing UEA's low carbon credentials and setting new standards in building concept and design, it will provide leadership and inspiration to businesses and entrepreneurs."
Building work on the site was marked on Tuesday when a thatching demonstration, featuring yeoman wheat grown in Starston, replaced the traditional turf-cutting ceremony.
'Absolutely delighted'
Thatch panels are just one of the many innovative design features which are planned to make the centre the first commercial building in UK designed to achieve both Passivhaus and BREEAM standards - two of the construction industry's low carbon accolades, planners said.
Ben Humphries, lead designer for the project, said: "We are absolutely delighted that this ceremony marks the beginning of construction at such an exciting and innovative piece of architecture.
"The building will provide the campus with a fantastic new gateway building whilst proudly announcing the university's intent to lead the way in low carbon innovation."
Along with European funding, the project will have financial support from the UEA and the Biotechnology and Biological Sciences Research Council (BBSRC).