G4S probe after money van hatch left open in Norwich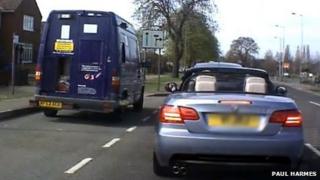 Security firm G4S says it is investigating after one of its vans was spotted with its rear hatch open and a sack of money on display.
The blue van was filmed on the Norwich ring road by driving instructor Paul Harmes.
Mr Harmes, who was giving a lesson at the time, said he posted the video to "show people how their money is transported".
G4S said it could not comment on the incident for "security reasons".
However, the firm added: "Any breach of standards are always investigated fully and dealt with accordingly."
It is understood no money fell from the back of the van.
The footage, taken in April, shows the van driving down the road before pulling over into a lay-by. A guard is then seen emerging from the back of the vehicle and shuts the hatch before waving to a motorist,
Mr Harmes said: "I did not even notice it at first. But when we went past it we could see what was in the back.
"It is a little bit worrying," he said, adding he was also concerned at what would have happened had the sack fallen out into the road.