King's Lynn incinerator: Leader to face government over burner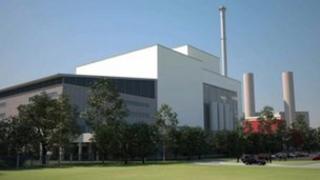 Norfolk County Council leader George Nobbs is to meet government officials after it pulled funding of £169m for a controversial waste burner.
PFI credits for the King's Lynn incinerator were withdrawn last month sparking a fierce political row over the role of Tory MPs.
Mr Nobbs also accused the government of planning delays over the incinerator.
Norfolk County Council opted to continue with the project amid fears pulling out could "bankrupt" it.
The £500m energy-from-waste plant has been opposed by local councils, MPs and tens of thousands of people in west Norfolk.
The protests led to the Communities Secretary Eric Pickles calling in the planning application earlier this year, which had been approved by the previous Conservative-led county council in 2012.
'Appalling irony'
But government backing relied on full planning permission being granted by the summer, and Mr Pickles' department has yet to make a decision on whether the application was valid.
The government said EU landfill reduction targets would now also be met without the burner.
In a letter to Lord de Mauley at the Department for Environment, Food and Rural Affairs (Defra), Mr Nobbs, Labour, said he would like to take up an offer to meet the secretary of state at the "earliest possible opportunity".
He said the government's decision to drop funding over delays was an "appalling irony", "unreasonable" and "unfair".
He concluded the move meant the authority would now have to save £189m over the next three financial years instead of £91m and added that he would push for a ruling on whether the government's decision was legal.
A Defra spokeswoman said: "We sought appropriate legal advice before making a decision to withdraw PFI funding.
"Ultimately the decision whether to continue the project rests with Norfolk County Council."
It had previously told the council it would not provide an alternative source of funding to the waste credits.