Souter victim wants jailed ex-BBC DJ to admit sex attacks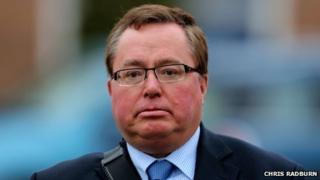 Michael Souter is finally behind bars for sexually abusing boys over a period of 20 years. One of his victims tells the BBC he would have been happier if the former-BBC Radio Norfolk DJ had received a shorter sentence and instead finally admitted his guilt and said he was sorry.
It was the moment they had been waiting for.
They had summoned up the courage to tell police how Michael Souter had blighted their childhood with sexual abuse, and they had been believed by a jury.
Now, it was their chance to see the man receiving justice for what Judge Mark Lucraft described as "a most appalling catalogue of abuse".
The 60-year-old had been convicted last month of 19 counts of sexual assault and seven counts of making and possessing indecent images of under-18s.
An almost palpable sense of anticipation pervaded a packed court room one at Norwich Crown Court as the judge imposed a sentence for each of the 26 charges.
"Three years, to run concurrently.... 18 months, to run concurrently," he said, working his way through the list.
Then, for the victims, the magic words rang out - 22 years - and there were some gasps in the public gallery.
"There was a great sigh of relief," said one of Souter's victims, who was among a number of witnesses at the trial who had returned for the sentencing.
"It's quite an extraordinary length of sentence. To hear 22 years on a number of counts made this whole process worthwhile."
Shorter sentence 'easier'
During his trial, Souter played out a "cynical defence", accusing the victims, police, the prosecution and even the judge of being involved in a conspiracy against him.
But in the face of "overwhelming" evidence, he claimed the stories of sex abuse were concocted and that the indecent images had been planted on his computer.
Souter continues to protest his innocence, his barrister said at his sentencing.
"I think he [Souter] was the only person in that court room that believes he's innocent," his victim said.
"People have said 'it must've brought closure when he was found guilty', but it hasn't really.
"My letter to the judge in advance of sentencing said that it would be much easier if he only just put his hand up and said sorry to his victims and admitted his part in it all.
"I would be happier with a shorter sentence, actually, with an admission of guilt.
"It would bring closure - much better than seeing him rot in a prison, or just in prison but planning his appeal and his revenge.
"I would rather he just come clean."
The man, who is now in his 40s, said he does not feel any hatred towards his abuser.
"Strangely, I don't. It was all a long time ago. I was very young, very innocent, very naive... and just buried that whole thing for such a long time.
"I hoped that one day he would go away and it's not really until now that he has really gone away and won't be bothering me anymore."