Norfolk Showground pulls out of Norwich speedway plans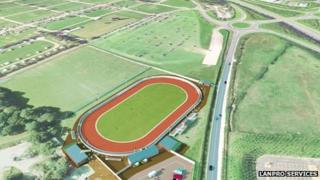 Plans to bring speedway racing back to Norwich after 48 years are in doubt after the Norfolk Showground pulled out as a venue.
The New Firs Stadium was due to be built and opened later this year.
But the Royal Norfolk Agricultural Association (RNAA) said it would no longer be leasing the land "due to uncertainty over the length of time it will take to complete the project".
Speedway consortium New Firs Ltd has yet to comment.
Original planning consultants for the venue, Lanpro Services, declined to comment.
The Norwich Stars last rode at the original Firs Stadium in Hellesdon in 1965, before their name was transferred over to the team at King's Lynn.
'Range of options'
At the unveiling of the plans in 2012, Lanpro director Philip Atkinson said the showground would be the "ideal location for speedway".
Under the deal, racing would have only taken place on Saturday nights when there were no other major events at the showground and practices would have been held on Wednesdays.
Racing would only have been allowed to take place until 22:00.
Greg Smith, chief executive of the RNAA, said: "We are continuing to look at a range of other options for the use of the site."