King's Lynn incinerator: Cabinet backs incinerator decision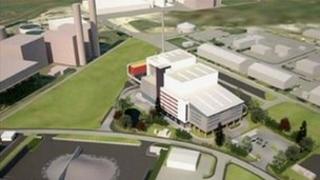 The decision to build a £500m incinerator in King's Lynn has been ratified by Norfolk County Council's cabinet committee.
The plans lost £169m in government funds this month, but a report claimed cancelling the scheme would cost £100m.
On Monday, the full council voted 40 to 38 accept proposals for the incinerator after they were backed by officers in a report.
The decision has now been supported by the council's cabinet committee.
The report by the council's director of environment, Mike Jackson, and the interim head of finance, Peter Timmins, says the burner could still save money.
The incinerator has been opposed by local councils, MPs and tens of thousands of people in west Norfolk.
Paul Green, of the Cory Wheelabrator consortium, which is behind the project, said: "We believe that the Willows Power and Recycling Centre will provide a long term sustainable solution to deal with the county's residual waste.
"We now look forward to the department for communities and local government making a swift planning decision."
Communities Secretary Eric Pickles has called in the planning application for the incinerator, which was approved by the previous Conservative-led county council last year.
He could still decide to withhold planning permission for the project.