Queen Elizabeth Hospital in special measures: New bosses installed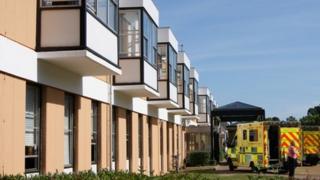 A new team has been installed at a hospital trust in Norfolk labelled as high risk for providing "poor care" by health regulator Monitor.
The Queen Elizabeth NHS Trust in King's Lynn has been put into special measures and a turnaround team brought in from other parts of the NHS.
A new chairman and chief executive will oversee a shake-up of management.
Monitor has also appointed an experienced improvement director to lead the turn around.
Monitor said warnings from the Care Quality Commission (CQC) over poor patient care and a report from NHS England highlighting inadequate nurse staffing levels prompted its intervention.
The trust has also been in breach of its licence over financial issues since April.
'Wealth of experience'
David Dean, currently vice-chairman of Guy's and St Thomas' NHS Foundation Trust in London, takes over as chairman, replacing Kate Gordon who has stepped down.
Manjit Obhrai, a key member of the turnaround team at Mid Staffordshire NHS Foundation Trust, has been appointed chief executive.
David Hill, who led the turn around of neighbouring James Paget University Hospital in Great Yarmouth, has been appointed improvement director.
Stephen Hay from Monitor said: "We have been monitoring the performance of this trust for some time and it is clear that the current leadership of the trust is not the right one to bring about the changes needed.
"That's why we've taken this action, appointing new leadership and bringing in a team that has a wealth of experience.
"Special measures will give the trust the opportunity to start delivering the standard of care patients expect."