King's Lynn incinerator: PWC warns of £100m costs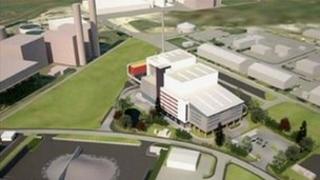 An independent report estimates the cost of abandoning a controversial £500m heat from waste incinerator in West Norfolk could rise to £100m.
Price Waterhouse Cooper (PWC) said paying compensation now would cost £28m, but to pull out later would incur further legal and other costs.
County councillors will decide on the King's Lynn incinerator on Monday.
The government has withdrawn £169m of funding and now councillors must decide to abandon the project or push ahead.
Norfolk County Council's interim head of finance Peter Timmins has warned that pulling out of the project would mean compensation payments would have to be made in 35 days.
This would mean an immediate freeze on spending and drastic service cut backs if bankruptcy was to be avoided, he warned.
Ship waste abroad
The Greens, who are on the fringe of the Labour, LibDem and UKIP alliance, said there were sufficient reserves and resources for the council to survive.
Local Conservative MPs Henry Bellingham and Elizabeth Truss, who both oppose the scheme, are lobbying government to offer the council loans to cushion the compensation payments.
UKIP has also said that the incinerator was not needed as waste could be shipped abroad, especially to Holland, economically.
The company behind the incinerator, Cory Wheelabrator, said it was disappointed at the government decision to withdraw funding.
Spokesman Paul Green said: "The consortium will submit a revised project plan to Norfolk County Council in line with its contract."
On 28 October, councillors will be asked to decide whether to press ahead with the incinerator project or abandon it.
The scheme has attracted fierce opposition on environmental and economic grounds, mainly from people living in West Norfolk.