Beeston Regis historical priory ruins restored for safe access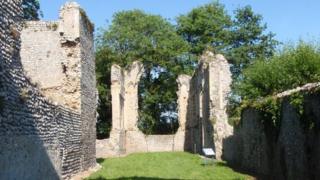 Ruins of a historical priory at a heritage site in Norfolk have been refurbished to allow safe access by the public at a cost just over £13,000.
St Mary's Priory, in the coastal village of Beeston Regis, was founded in 1216 and was linked to a religious hospital in Burnham Overy.
Austin Friars lived at the priory, taught at its school and acted as parish priests to nearby villages.
Norfolk County Council funded the restoration and extensive repairs.
The priory was founded by Margery de Cressy and it was dissolved in 1536.
The association with Burnham Overy priory was broken when plague and flood forced the hospital to close in the 14th Century.
Work included recovering 19th Century gates and a roof that had been vandalised.
Norfolk cabinet member David Harrison said: "It's important the Norfolk residents learn about their heritage and the repair of sites like this is a brilliant enhancement to our rich historic culture."