Queen Elizabeth Hospital in 'special measures' MPs report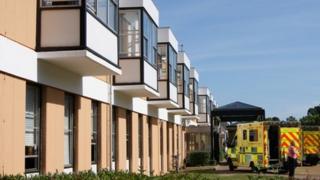 Three MPs have called for improvements at a Norfolk hospital after reporting it had gone into "special measures".
Kate Gordon resigned as chairwoman of the Queen Elizabeth NHS Trust in King's Lynn earlier this week.
She confirmed her departure in a letter to MPs Henry Bellingham and Elizabeth Truss. Their fellow MP Steve Barclay said the situation was "concerning".
Monitor, the health service regulator responsible for putting hospitals in to special measures, declined to comment.
The hospital is expected to comment later.
Mr Bellingham, a Conservative, said he hoped a new action plan for the hospital would be announced soon, including a new management structure.
Monitor sent a "rapid response review" team in to the hospital in August after an inspection by the Care Quality Commission revealed failings in five key areas.
The major failing was the level of staffing. The hospital began a recruitment drive which brought in a number of nurses and medical staff from Portugal.
The Care Quality Commission (CQC) said at the time it would produce a report in September, but this has not yet been made public.
'No excuse'
Mr Bellingham said: "Whilst this is dramatic news [special measures], I am very hopeful that the hospital can turn this into an opportunity to deliver on the new action plan."
He stressed said the vast majority of his feedback relating to the hospital had been positive but added: "There have unfortunately been a small number of cases where this prevalent best practice has not been met.
"There is no excuse for poor standards. I am hopeful that the best practice that the hospital can deliver will be put in place across the entire organisation."
His fellow Conservative Ms Truss said she already raised concerns about the trust.
"I visited the hospital two weeks ago and spoke of my concerns about accountability and operational practices with the leadership team," she said.
"Along with my colleague Henry Bellingham we are meeting the health minister next month to address these issues further."
Mr Barclay, Conservative MP for North East Cambridgeshire, said: "It is clearly deeply concerning that the Queen Elizabeth Hospital in King's Lynn has gone into special measures.
"I can fully understand patients and staff feeling the need to be reassured that measures are being taken to ensure standards of care are back up to standard as soon as possible."
UNISON union, representing many staff at the hospital, blamed "a chronic lack of funding from central government due to requirements to make 5% year-on-year savings" as one major cause of problems.
Another issue was low staffing levels, a union spokesperson said.
"In real terms, the hospital is now under-funded by 5% which means care of patients will start to suffer.
"UNISON has previously raised concerns about short-staffing and low morale at this hospital," the spokesperson said.