Paramedic Fiona Turner cleared of misconduct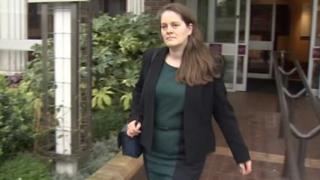 A paramedic accused of not adequately assessing a woman who died in a car crash has been allowed to continue working.
Fiona Turner was working for the East of England Ambulance Trust when she was called to a two-car crash near Thetford, Norfolk, in August 2011.
Catherine Barton, 27, of Brandon, Suffolk, was trapped in one of the cars for 90 minutes and died at the scene.
Ms Tuner was found competent to practise by a tribunal panel.
The three-man Health and Care Professions Council panel, sitting in Norwich, delivered its ruling after almost six hours of deliberation.
It had heard misconduct charges that Ms Turner did not assess or adequately monitor Miss Barton, try to resuscitate her until she was in the ambulance or respond to firefighters' concerns that she may have stopped breathing.
Ms Turner told the panel on Tuesday she felt "left out there alone".
It was also alleged she did not recognise Miss Barton's deterioration, prioritise resources at the scene, request back-up from a doctor and keep an adequate record.
'Blood loss danger'
In summing up on Wednesday, her defence counsel Kate Annand said allegations by firefighters that Ms Turner appeared to have lost control of the situation failed to appreciate the clinical judgements she was having to make on her own.
Miss Barton's leg was almost completely severed and there was a danger she would have died of blood loss if moved, Ms Annand said.
The trainee veterinary nurse had been driving with her best friend in the passenger seat when a car avoiding a deer crashed into them on the B1107 Brandon Road.
She suffered multiple injuries and died shortly after she was freed from her Ford KA.
Ms Turner will now be able to continue with her career as a paramedic with a private ambulance service.