Paramedic at Catherine Barton fatal crash 'left alone'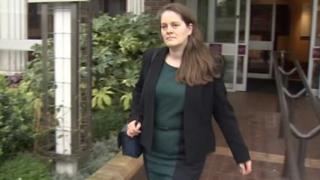 A paramedic called to a fatal crash has told a tribunal she was "left out there alone" and the ambulance service did not do enough to help the victim.
Catherine Barton, 27, was trapped in her car from more than 90 minutes near Thetford, Norfolk, on 5 August 2011.
Paramedic Fiona Turner, who attended the crash, is before a conduct and competence committee in Norwich.
"I'd never been the first paramedic to arrive at the scene of such severity," she said.
Miss Barton, a trainee veterinary nurse from Brandon in Suffolk, had been driving with her best friend in the passenger seat when a car avoiding a deer crashed into them on the B1107 Brandon Road.
She suffered multiple injuries and died shortly after she was freed from her Ford KA.
Describing the scene when she arrived, Ms Turner said: "It was a mess. I told my colleague, 'ring control for another officer, anybody you can get'."
When asked, she said a call for four ambulances was made "barely minutes after arriving... near the beginning."
'Getting flustered'
The tribunal heard it took 30 minutes for a second ambulance to turn up.
Watch manager firefighter Alan Prior told the tribunal Ms Turner did not seem to make her mind up what action to take, and firefighters were getting flustered.
Asked by her defence counsel Kate Annand if she left Miss Barton for 10 minutes, she said she was required to assess all four patients, three of which were time critical.
In cross-examination, Sarah Harris from the Health and Care Professions Council said fire crews questioned whether an assessment of Miss Barton had taken place.
"I disagree, my recollection is clear," said Ms Turner.
Firefighter Simon Bunning said he noticed a change in Ms Barton's breathing but Ms Turner did not seem to do anything.
Ms Turner said: "It would be absurd to walk away, I couldn't leave a patient not breathing."
She said requirements had outstripped resources and she had cried after the crash because she felt "we [the ambulance service] had not done enough".
In January, Norfolk coroner William Armstrong said delays by the ambulance service "substantially reduced" the chances Miss Barton's survival.
The tribunal continues.