King's Lynn incinerator: Ending scheme could 'bankrupt' county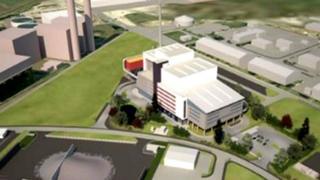 Norfolk could face "bankruptcy" and emergency cuts if it has to find £25.9m to end a £500m incinerator project, a county council report has said.
The money would be paid to development partner Cory Wheelabrator if Norfolk County Council terminated the contract for the King's Lynn facility.
Peter Timmins, interim head of finance, said it would have to be paid within 35 days of the decision to terminate.
He added that there was no budget for the costs.
In the report, Mr Timmins said that "if the council's expenditure exceeds its resources, as would be the case in 2013-14, there is the prospect of 'bankruptcy' for the council".
He said that to fund the payment, the council would have to consider a spending freeze, emergency cuts to services and the depletion of reserves, down to the agreed minimum of £16m.
Norfolk County Council, which is made up of an alliance of Labour, UKIP and Liberal Democrats with Green and Independent support, has also been hit by the withdrawal of a £169m government grant towards the cost of the plant.
The report will be debated at a full council meeting on 28 October. A further independent report on the incinerator project is due out later in the week.