Richard Branson letter 'surprises' Norfolk school pupil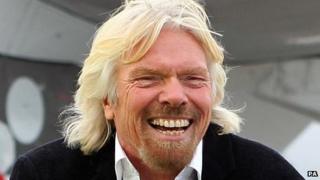 A 12-year-old pupil has won praise from Virgin boss Richard Branson in an email outlining his business career that he posted on a networking website.
Olivia Hill, a business studies student at Aylsham High School in Norfolk, sent the message during the summer holidays.
But to her "surprise", she got a personal reply asking her to send her first business idea to him.
"I was sat with my mum when I got the reply and I screamed," said Olivia. "I didn't think I would get a reply."
She added: "Then yesterday [Monday] my teacher took me out of class and showed me it had been posted on the internet.
'Delightful note'
"My friends were as shocked as me and my family have been sending me messages."
Posting the email on the social networking site Linkedin, Mr Branson said: "I received a delightful note recently from Olivia Hill.
"She is just starting her first GCSE in Business Studies and asked yours truly about the key enterprising skills I used when first starting out.
"Having replied to Olivia, I thought some other young business students might like to read my reply too, so here it is."
In the email he spoke about how Virgin started out and concluded it by saying: "Have you thought about your own first business idea yet? When you do, be sure to let me know. All the best, Richard."
Olivia, who plans to undertake a career in business, said: "I don't have an idea yet, but I'm thinking about it."