King's Lynn incinerator: Norfolk MPs accused of treachery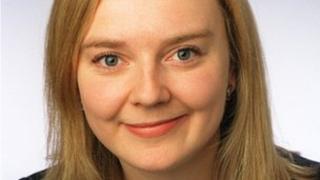 Conservative councillors have accused Tory MPs of "treachery" in a row over a proposed waste incinerator for Norfolk.
The government announced on Friday it had withdrawn a £169m grant for the proposed incinerator at King's Lynn, following lobbying by local MPs.
Tory councillor Ian Monson emailed South West Norfolk MP Elizabeth Truss saying she and fellow MPs had "kicked the people of Norfolk in the teeth".
Ms Truss said the government had made the right decision.
The incinerator scheme was approved by a Conservative administration at Norfolk County Council but never won the support of West Norfolk Council and Tory MPs including Ms Truss and Henry Bellingham, the MP for North West Norfolk.
They successfully lobbied the government to withdraw its grant to the county council.
'Won't be forgiven'
The decision prompted an angry response from Mr Monson, former council cabinet member for environment and waste.
In an email to Ms Truss, copied to Conservative councillors and seen by the BBC, he wrote: "What an absolute disaster you and your fellow Norfolk MPs have caused by lobbying for the cancellation of this waste grant.
"You have directly kicked the people of Norfolk in the teeth by putting in the boot. Mark my words, you will not be forgiven for this.
"You may crow about it now but it will eventually come back to bite you.
"All Norfolk taxpayers will now have to find this extra funding to dispose of our future waste."
Mr Monson went on: "This is the worst type of political manoeuvring without due consideration of the consequences."
He declined to be interviewed, but said: "I stand by what I said in that email."
'Absolute treachery'
Tory county councillor Cliff Jordan also emailed fellow Conservatives, saying that Ms Truss and other Tory MPs should stand for re-selection over the row.
"They've done a disservice to the Conservatives and Norfolk in general. It's absolute treachery," he said.
"I doubt it will blow over. There are a lot of real Conservatives really angry with them.
"Whether we like it or not we have got to deal with the waste and now Norfolk has lost a grant to do that."
Ms Truss said: "This was £169m in taxpayers' money which was earmarked for a project no-one wanted and technology has moved on."
Mr Bellingham said he understood why some councillors were disappointed.
'Conservative eyes only'
"Of course there's bitterness - the Conservative group were trying to force this through in the face of massive opposition," he said
"We've got to move on and put this unfortunate saga behind us. The alternative is further recriminations and attacks."
John Dobson, a Tory councillor who opposes the incinerator, said he had written to Mr Monson, suggesting he withdraw his comments and apologise. He played down talk of a Tory split
"The email was intended for Conservative eyes only and people don't pull their punches when talking to others of similar political opinions," he said.
"You mustn't think this shows Conservatism is in any way weakened."
He said he had suggested asking former Norfolk MP and ex-cabinet minister Baroness Shephard to calm the dispute.