Government withdraws £169m King's Lynn incinerator grant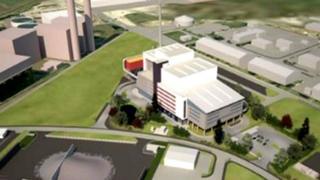 About £169m in funding for a controversial waste incinerator has been withdrawn by the government.
Norfolk County Council hoped to build the incinerator at King's Lynn but plans were put on hold after political changes at County Hall.
The project depended on a government grant, but ministers have decided to withdraw funding.
Labour council leader George Nobbs said the decision was "more bad news from this government for Norfolk taxpayers".
The council is already committed to the £500m project and must pay development partner Cory Wheelabrator compensation of up to £20.3m if it does not get planning permission, although extra costs could push that figure higher.
Fierce opposition
Cory Wheelabrator spokesman Paul Green said the company was disappointed at the decision by the Department for Environment, Food and Rural Affairs (Defra) to withdraw funding.
"The consortium will submit a revised project plan to Norfolk County Council in line with its contract," he said.
On 28 October, councillors will be asked to decide whether to press ahead with the incinerator project or abandon it.
The scheme has attracted fierce opposition on environmental and economic grounds.
It was approved by a Conservative administration at County Hall, but the Tories lost control of the authority in May and now the majority of councillors oppose the scheme.
It is also opposed by Conservative-controlled West Norfolk Council, West Norfolk MP Henry Bellingham and South West Norfolk MP Elizabeth Truss.
On the funding decision, Mr Bellingham said: "It's brilliant news for Norfolk because this project has always been the wrong technology in the wrong place at the wrong time. It should never, ever have been considered for government funding."
Ms Truss said: "I have always argued that over £100m on subsiding a plant that local residents did not want is a poor use of taxpayers' money.
"I am pleased to hear that Defra has listened to these arguments."
Lord de Mauley, Defra minister, explained the decision in letters to both MPs and the council.
He said the authority had breached terms and conditions under which funding was agreed.
'Not taken lightly'
It failed to secure planning permission for the incinerator by this summer.
The letters also said that England would meet EU landfill reduction targets by 2020 without the need for the incinerator.
"The decision has not been taken lightly and has been made on its own merits, but I recognise that it is likely to create difficulties for Norfolk County Council (NCC)," Lord de Mauley wrote.
"We were also aware that if NCC decided not to proceed with the project in the light of this decision, it would potentially incur significant financial costs."
David Harrison, Liberal Democrat cabinet member for environment, transport, development and waste, said penalty payments could reach £26m, on top of the £66m in savings the council must make next year.
"The consequences to the Norfolk taxpayer will be severe. Services will have to be cut right to the bone," he said.