Michael Souter: Jury out in ex-BBC man's sex abuse trial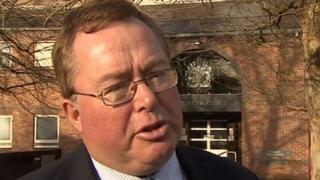 The jury in the trial of a former BBC radio presenter accused of sexually abusing boys has retired to consider its verdicts.
Norwich Crown Court has heard ex-BBC Radio Norfolk and Radio Clyde broadcaster Michael Souter, 60, was a "deviant sexual abuser".
He denies 19 sex attacks on seven boys aged 11 to 16 from 1979 to 1999.
He also denies nine counts of making and possessing indecent images of under-18s.
Mr Souter, of Loddon, Norfolk, said he had never abused any boys and indecent images found on his computer were sent to him by police.
Judge Mark Lucraft spent two days summing up evidence heard over the past six weeks.
'Motivated by grudges'
He reminded jurors Mr Souter had admitted taking part in explicit online chats with other men. The prosecution alleges they reflected real-life abuse carried out by Mr Souter on young boys.
The judge said Mr Souter claimed the accusations were motivated by grudges against him, and that some of the alleged victims had colluded.
Mr Souter claimed some were malicious, and one man was simply embarrassed by a past relationship with Mr Souter as he was now married with children.
The jury was also reminded of several character witnesses who gave statements testifying to Mr Souter's decency.