A14 toll scheme is road apartheid, claims David Ruffley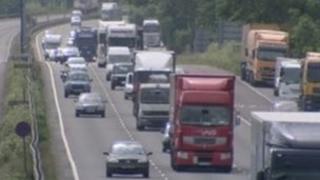 The proposal for a new toll road to the north of Cambridge has been widely criticised by hauliers, motoring organisations and business groups.
Now MPs are claiming that charging drivers to use the A14 will slow down East Anglia's economic recovery.
MPs from Suffolk chose a special debate at Westminster to voice their opposition to the controversial tolling plan, which was described as a congestion charge for Cambridgeshire penalising hauliers and drivers from Suffolk.
"Proposals such as this could have a negative impact on Suffolk's economy as a whole," said Peter Aldous, MP for Waveney. "If there's a toll road there should be a proper alternative but preferably no toll road at all."
Therese Coffey, MP for Suffolk Coastal, who had called the debate, said that demand was not inelastic to the toll and that it would add costs to going in and out of Suffolk.
'Double disadvantage'
She added that the market town of St Ives could be ruined by increased traffic trying to avoid the toll.
"We are concerned for our county and our region. The A14 need to be improved but users feel they already pay their share and users know other parts of the road network are fully funded. It is really rousing Suffolk," she said.
David Ruffley, MP for Bury St Edmunds, did not mince his words. "Why wasn't there greater consultation with Suffolk?" he asked. "Other A roads are not being tolled. We're now facing A road apartheid."
Ipswich MP Ben Gummer claimed the East of England was bereft of infrastructure.
"Suffolk hauliers are having to pay for the economic success of Cambridge," he argued. "We, in Felixstowe, do not have an electric link by rail and our principal road route will be tolled - it's a double disadvantage."
The scheme was defended by Roads Minister Robert Goodwill, who said it was only fair that drivers make a contribution to the £1.5bn cost. He added the benefits of the A14 upgrade would be enormous.
Alternative routes
"It carries 85,000 vehicles a day, many more than it was designed for. Congestion itself presents a cost to business efficiency. Tolls are a well-established principle.
"The government will still bear the brunt of the cost of the scheme but it is right that users should make a contribution to its construction."
He said there would be no toll plazas to maintain the flow of traffic and that alternative routes were 14 miles or so longer, so it would be more economic to stay on the road and pay the toll. If hauliers did not want to pay the toll could travel at night, when there would be no charge.
What hauliers will make of that will, no doubt, be made clear soon enough...
The first consultation period has just ended. More than 1,000 people have replied to questionnaires and 5,000 people have already attended exhibitions about the route; none of which were held in Suffolk, pointed out Ms Coffey.
Everyone agrees that to do nothing is not an option but the main objection still seems to be that out of 25 national road schemes, this is to be the only one funded by a toll.
Meanwhile Cambridgeshire's MPs were noticeable by their absence, while Suffolk's MPs said that the county's drivers would be effectively paying Cambridge's congestion charge.