Hemsby lifeboat unable to launch from disappearing beach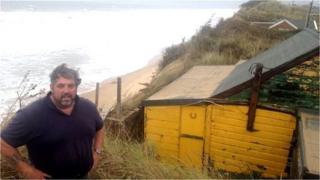 A lifeboat will not be able to launch when returning to service because rough seas have cut a 10ft (3m) drop into the Norfolk beach where it is based.
The Hemsby lifeboat is launched from a tractor driven trailer which cannot negotiate the drop.
Coxswain Ross Hewitt said the last time this happened sand was brought to deal with the drop.
"The boat is in for annual maintenance at present but it is worrying for the future of the station," he said.
"We are quiet in the winter months so we are going to take our time to reassess what to do.
"It's pointless doing anything now. We're off station while the boat is in for annual maintenance."
The storms have severely affected the beach known as the Marrams, owned by the Watling Trust - a charity that donates to good causes which was set up in the will of businessman and former Norwich City FC director Geoffrey Watling.
The beach was damaged in March this year and the trust brought in sand but it is being washed away again in the latest storms.
Warning sign request
The beach has been so badly damaged that a tenant was advised to leave his home and was given temporary accommodation on Friday by Great Yarmouth Borough Council.
"Parts of the coastline at Hemsby suffered considerable coastal erosion due to the weather experienced at the end of last week," a council spokesman said.
Although no official ban is in place to prevent people coming to the beach the council is concerned about safety.
"The borough council has written to the owner of that stretch of beach, asking them to erect appropriate signage as soon as possible to warn the public of the risk," the council spokesman added.
He said: "In the longer term, it is the responsibility of the owner of the property to decide what happens to it.
"The borough council's coastal manager has carried out an assessment of the Hemsby coastline to update maps and determine whether any other structures could be at immediate risk."