Norwich food scientists work on 'honey map' to stamp out fakes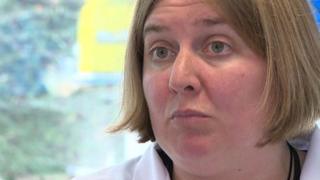 A "honey map" is being produced by food scientists in Norwich in a bid to ensure consumers buy a genuine product.
The Food Standards Agency (FSA) raised concerns over honey purity because it can be diluted with corn syrup or be tainted with cheap imports from abroad.
A firm called Food Forensics has been set up in collaboration with experts from the University of East Anglia.
They are asking beekeepers for samples of honey and local nectar plants to map "authentic" honey sources.
Alien materials
Although honey now has to be labelled with its country of origin, in a report brought out in March this year the FSA identified honey as a target for fraud.
It said it was a "growing concern" and a full survey was needed of UK honey.
The Norwich scientists aim to identify exactly which part of the country a particular sample of honey has come from by identifying pollen residues and sugar structure, as well as testing for presence of any alien materials.
The map they will produce is aimed at helping flush out fake or diluted honey.
Alison Johnson, director of Food Forensics based at Norwich Research Park, told BBC Inside Out: "There are three different ways you can fraudulently sell honey.
"One is using imported honeys and selling it as labelled British when it is clearly not.
"You can also mix honey with corn syrup - there have been a lot of reports of honey detected that's got a blend of corn syrup and honey - and actually it's not honey at all but it's a mixture.
"The third way is just feeding bees sugar syrup which creates a honey-like substance but it's got no pollen in it, so it's not true honey."
Technology developed for drug testing will be used to analyse the product to confirm the areas where the bees have foraged.
Kite mark
The work has been partly funded by the government and partly by the company itself.
The tests will detect the difference between UK honey and imported honey.
Once the map is complete, there will be two options; either honey producers will be able to pay to have their honey authenticated and then display a kite mark, or retailers will be able to pay for tests so they are able to say the product is genuine.
Ms Johnson pointed out that there were opportunities for fraud in almost every food and every drink the consumer buys.
"Our job is to develop tests to give the consumer reassurance that the product they are buying is authentic, is as it's labelled and it's safe and traceable to eat," she said.
"If we can do that then we've done our job."
For the last two years the private company has been developing tests to verify the provenance of products including olive oil, wine, meat, fruit and vegetables.
A single bee can visit

1,000+

flowers a day

A bee's wings beat

200

times a second

Every year, bees produce

6,000

tonnes of honey in the UK
Honey bees fly up to 4 miles (6.5km) to collect nectar and pollen and can cover 50,000 hectares
SOURCE
For more on this story, see BBC Inside Out East on BBC One at 19:30 BST on Monday.