Ex-BBC DJ Michael Souter sex trial hears he was 'of good community standing'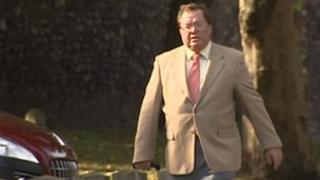 An ex-BBC broadcaster accused of sex offences against children was someone of "good standing in the community", a court has heard.
Alan Cross told Norwich Crown Court he previously had no doubts about the good character of his friend, ex-BBC Radio Norfolk presenter Michael Souter.
Mr Souter, 60, of Loddon, Norfolk, denies 19 sex attacks on seven boys.
He also denies nine counts of making and possessing indecent images of under-18s.
The attacks are alleged to have taken place on boys aged 11 to 16 between 1979 and 1999.
'Someone I respected'
Mr Cross said he had belonged to a Venture Scout group run by Mr Souter in New Costessey, Norfolk.
He said the pair had been friends for about 30 years.
"He put his heart and soul into the job of being a Venture Scout leader," said Mr Cross, an insurance broker.
"He was someone I respected, of good standing in the community."
Mr Cross said at the time he understood Mr Souter, who was also a presenter on Radio Clyde, to be bisexual.
He was asked by defence barrister Andrew Hill: "On any occasion did he behave in a sexual way to you?"
"Absolutely not," replied Mr Cross.
"Did he have any inappropriate conversation with you about sexual matters?" Mr Hill asked.
"No," replied Mr Cross.
'I have concerns'
Quizzed by prosecutor Andrew Shaw, Mr Cross said until these latest allegations he had no doubt whatsoever about Mr Souter's good character.
He was then shown pictures found on Mr Souter's computer.
Mr Shaw pointed him towards one particular image.
"Would you have been concerned if you'd known he had an image like that on his computer?" he asked,
"Yes," replied Mr Cross. "I have concerns on the basis of what I have seen today."
The case continues.