Ex-BBC DJ Michael Souter sex trial: 'I only sought to enhance boys' lives'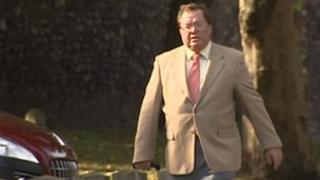 An ex-BBC DJ accused of sex offences against boys has told a court: "I only ever sought to enhance their lives."
Former BBC Radio Norfolk and Radio Clyde presenter Michael Souter, 60, denies 19 sex attacks on seven boys aged 11 to 16.
Mr Souter also denies nine counts of making and possessing indecent images of under-18s.
Norwich Crown Court has been told Mr Souter was a "sexual deviant" obsessed with young boys in shorts and uniform.
Mr Souter, of Loddon, Norfolk. was a leader in the Scout Association and was also involved in a Norfolk County Council youth mentoring scheme.
He is alleged to have carried out the attacks between 1979 and 1999.
Asked by his barrister Andrew Hill whether he had abused any boy, he said: "I only ever sought to enhance their lives."
Mr Hill asked again: "Have you every abused any of them?"
Mr Souter replied: "No."
'Perfectly decent'
He previously told the jury he had a fetish for shorts, uniforms and spanking but that any activities only took place between consenting adults.
Describing a spanking website he had used, he told jurors all images on it were "perfectly decent".
A childhood friend of one of Mr Souter's alleged victims told the court about a telephone call he received when he was about 15 or 16.
It was his friend, he said, telling him he had been abused by Mr Souter and asking him to make a statement to the police.
He said his friend called again several days later, this time claiming he had made the allegations up.
"I felt, as a 16-year-old kid, just betrayed," he said.
"I was willing to make a statement for him and he said within a few days that he had made it up."
'Telling the truth'
Andrew Hill, defending, pointed out Mr Souter and asked the man if he had ever spoken to or had contact with him.
"No," he replied.
Cross-examining him, Andrew Shaw, prosecuting, said a police statement showed the man did speak to police in 1993, telling them his friend had told him about the abuse allegations in person, not on the phone.
The man said he did not remember.
"You have no way of knowing if he was telling the truth when he said he was abused, and no way of knowing that he was telling the truth when he said he made it up," said Mr Shaw.
"No, I don't," said the man.
The trial continues.