Michael Souter sex trial: 'Guilt' of ex-BBC man's victim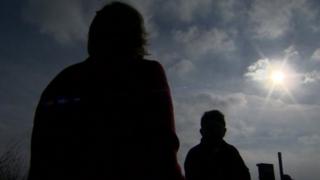 Former BBC broadcaster Michael Souter has been convicted of sexual assaults against seven boys over a 20-year period. One of his victims told the BBC he was still dealing with the consequences of the abuse more than 30 years later.
For his victims, the news that paedophile Michael Souter has been convicted will come as vindication and a huge relief.
But one man abused by the former BBC Radio Norfolk and Radio Clyde presenter said he felt guilty for not reporting the attack sooner, and hoped other victims of sexual assault would now find the courage to come forward.
"If I could stop somebody continuing to go through abuse now, it will be worth it," he said.
Souter, 60, was found guilty at Norwich Crown Court of 19 sex offences, including indecent assault and indecency with a child, against seven boys aged 11 to 16.
The attacks took place between 1979 and 1999.
'I feel guilty'
Souter, of Loddon, Norfolk, was found guilty of a further seven counts of making and possessing indecent images of under-18s, and will be sentenced later.
"I think he's finally got what he deserves," said the man.
Now a father in his 40s, he was abused by Souter in the 1980s.
Souter, then in his late 20s, had already molested another boy and would go on to abuse five more, meeting some of his victims through Scouts and a social services mentoring scheme.
"Now that I know what he's done to the other children after what he did to me, it makes me feel very sad that because of social pressure at the time, I was unable to come forward and say something," said the man.
"Had I been forceful, had I been able to come and say something, these kids may not have been abused. I feel guilty."
The man had assumed he was singled out for abuse and had no idea Souter was targeting others.
"Had I been able to speak out at the time it may be that I could have stopped further abuse of other children - worse things than I went through," he said.
"But I didn't realise it was actually going on with these other people. I think I got away lightly compared to them and just didn't think I would be believed."
'Some amazing times'
He thought Souter, as he would later claim in court, was just being community-spirited and trying to create opportunities for youngsters.
"I do feel angry because it's just something that was completely and utterly wrong," he said.
The man met Souter through the Scouts movement and was impressed at how he used his influence and local celebrity status to get youngsters behind-the-scenes access on excursions and activities.
"We had some amazing times," he said. "We did things I never thought I would be able to do, getting into places I never thought I would be able to get into.
"Wherever you went you seemed to be able to talk to the people that owned it or managed it, whether it was a theatre or a football club or a council."
'Nothing was said'
Describing Souter as "very overpowering, very demanding, over-friendly", he said he liked him at first.
"He was an adult you could actually have fun with, rather than a parent or teacher or somebody where you always felt you would have to do as you were told."
But his views changed after Souter abused him.
"It was a shock. Suddenly all the fun and laughter and joking changed to something that was real and shouldn't have happened," he said.
"The first thing was not being able to talk about it, not to him or anybody. Nothing was ever said."
Asked why he did not speak out, he said: "Fear of not being believed, fear of being cast out from a very big, close group of friends in which he was a dominant part, and being ridiculed, I suppose, for being gay or something."
'Couldn't trust anybody'
Although he remained silent, the abuse took its toll.
"It's something I have always tried to forget but I think it's always affected relationships," he said.
"I don't think I have really been able to trust anybody properly again. It was not really until a couple of years ago I have been able to talk openly about it."
Only when police investigating allegations against Souter approached him did he finally find the courage to speak. He wished he had done it sooner.
"I was very surprised how easy it was to talk to the police," he said.
"I really felt I was being believed and now something has been done about it."
He urged other victims of abuse not to keep it secret.
"If you can't talk to any friends, if you can't talk to any adults, go and talk to the police," he said.
"Talk to the specialists at the police. They absolutely understand what you have been through and will believe what you are going through.
"We can't do anything about what happened but if we can stop somebody else either getting into it, or stop somebody who's abusing them at the moment, it will be worth it."