Ex-BBC Michael Souter apologises to judge over 'smear'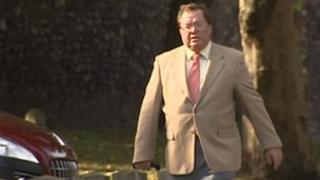 An ex-BBC DJ accused of child sex offences has apologised to a prosecutor and judge for accusing them of being part of a conspiracy to smear him.
Michael Souter, who denies sex attacks on boys, launched into a tirade against Andrew Shaw and Judge Mark Lucraft at Norwich Crown Court.
He questioned their integrity and suggested the judge had previous contact with or knowledge of witnesses.
Mr Souter, 60, had previously accused prosecutors of intercepting his emails.
He also claimed Norfolk Police officers emailed indecent images to his computer in an attempt to manufacture evidence against him.
'Ask forgiveness'
On Friday he told jurors he withdrew any suggestion the judge and prosecutor had acted improperly.
His barrister, Andrew Hill, read a statement to the court saying: "Mr Souter makes it clear that he was wrong to say that the learned judge has any prior knowledge of witnesses or any statements or material relating to them.
"Such comments that were made which imply to the contrary are formally withdrawn."
Souter then addressed the court himself, saying: "I would just like to say to Mr Shaw that during the course of yesterday matters did get somewhat heated.
"I called into question his professional integrity. I apologise unreservedly for that and ask his forgiveness."
Mr Souter, of Loddon, Norfolk, denies 19 sex offences, including indecent assault, indecency with a child and serious sexual offences, against seven boys aged between 11 and 16.
The allegations date from 1979 to 1999.
Mr Souter, who was also involved in the Scouts and a social services youth mentoring scheme, denies a further nine counts of making and possessing indecent images of under-18s.
Prosecutors have described him as a "sexual deviant" who was obsessed with young boys in shorts and uniform.
He claims he is the victim of a conspiracy, with victims making up allegations against him.
The trial continues.