Tice Hairstylists has wall knocked down 29 times in 53 years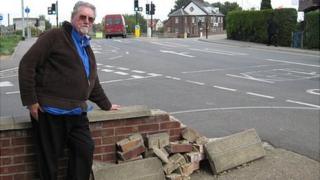 A hairdresser in Norfolk has blamed bad drivers after the wall outside his shop and home was knocked down for the 29th time in 53 years.
Barry Tice, 75, will need to pay about £150 for the repairs outside his salon in Wisbech Road, King's Lynn, after it was damaged on 31 August.
Mr Tice was out and had hoped a nearby camera had recorded what had happened but said it was not working.
"It is not the road that is the problem, it is the drivers," he said.
In total about £10,000 has been spent on repairs at Tice Hairstylists.
About four years ago a car ploughed into the shop front, blocking it off for weeks.
Mr Tice, who has worked as a hairdresser in the town for 60 years, said someone could have been "killed" when the car crashed into his shop.
It was estimated the vehicle was travelling between 65 and 70 mph when it hit.
"The car engine ended up stuck in between the front seats," he said. "I was in my kitchen and it sounded like a bomb going off."
Mr Tice said he had fought for a camera to be installed three years ago on the road to monitor traffic.
He said he will have to pay for the latest repairs out of his own pocket as the excess cost on his insurance is £500 due to the number of incidents at his property.
"It is another setback but it wouldn't have been so bad if the camera had been working," he said.
Norfolk County Council, which is responsible for traffic management, said it had not been made aware of any problems on the stretch of road outside Mr Tice's shop and home.