Medieval friezes stolen from St Lawrence's Church, South Walsham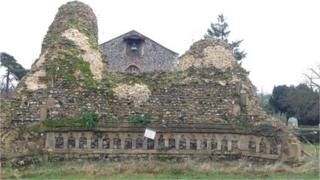 Heavy flint and stone decorative frieze works have been stolen from a medieval church tower in Norfolk.
The frieze stones, dating from the 15th Century, were taken from St Lawrence's Church in South Walsham, near Acle.
Several sandstone and flint blocks were prised out of a collapsed medieval tower wall in the church yard.
Church rector the Reverend Nick Garrod said the stones were irreplaceable and the cost of repairing damage to the tower would be "prohibitive".
Mr Garrod said he realised they had disappeared on Wednesday.
"We searched the church yard but found no trace of the stones so they must have been taken away," Mr Garrod said.
"They were decorative and not structural but the tower has been damaged and the cost of repair looks prohibitive.
"They were on a site which was a peaceful place of reflection. Taking away the stones goes against the spirit of the place."
As well as being used for worship, St Lawrence's Church is a centre for arts, crafts and community events.
Norfolk Police says they were investigating.