Ex-BBC Michael Souter tells sex trial of 20-year campaign against him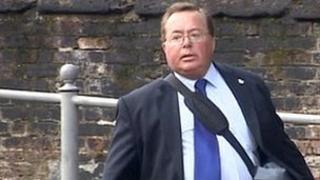 A former BBC presenter accused of sex offences against children has told a court he had been spied on by the authorities for 20 years.
Ex-BBC Radio Norfolk broadcaster Michael Souter, 60, told Norwich Crown Court his post, phone calls and emails had been intercepted since 1993.
Mr Souter denies a series of sex attacks on boys and making and possessing indecent images of children.
The attacks are alleged to have taken place between 1979 and 1999.
Mr Souter, who was also involved in the scouts and a social services youth mentoring scheme, is accused of 19 sex offences against seven boys aged between 11 and 16.
He denies a further nine counts of making and possessing indecent images of under 18s.
'Draw them out'
He told the court indecent images found on his computer had been sent by police investigating abuse allegations against him, first made in 1993.
The court heard Mr Souter. of Loddon, Norfolk, had written several statements which he had signed, dated, sealed and placed in a safe, alleging covert surveillance and tampering with his computer.
In one, he wrote that he would "try and draw the police out".
He wrote: "I have taken photographs which, while not being obscene, may make the police think they have more evidence."
Cross-examining him, prosecutor Andrew Shaw asked: "Why would somebody think photos you had taken and would continue to take might be obscene?"
Mr Souter replied: "The authorities have been trying to prove me guilty for 20 years and not allowing me to prove my innocence."
He said he had reported his suspicions over surveillance to Peter Franzen, then editor of the Eastern Daily Press.
"My friend Peter said I was paranoid but, by heavens, with just cause," he said.
Mr Shaw told Mr Souter: "You are a man who can't stop looking at child porn," and suggested claims of surveillance and tampering had been an attempt to "get your defence in early".
Mr Souter denied this.
Mr Shaw asked him about one indecent image, taken from a website, saying it was "plain as a pikestaff" that the boy pictured was about 15.
Mr Souter disagreed, saying that he had never visited the site, but assumed it carried a disclaimer stating that any "models" were over 18.
'Fill your boots'
He said he assumed the site must be legal but that police had not checked it out.
Mr Shaw asked him: "Are you for real?"
Mr Souter replied: "Yes, I'm for real and you don't like it when I point out things that should have been done as part of the investigation."
Mr Shaw said: "Fill your boots. I'm loving every word that comes from your mouth.
"Honestly, I'm enjoying it. Keep going."
Mr Souter presented a number of shows for BBC Radio Norfolk from its launch in 1980 until the 1990s and has also presented for Radio Clyde
The trial continues.