Michael Souter tells trial: 'Police sent me indecent photos'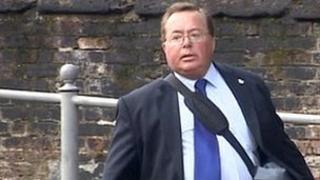 A former BBC presenter accused of sex offences against children has told a court indecent images found on his computer were sent to him by police.
Ex-BBC Radio Norfolk broadcaster Michael Souter, 60, denies a series of sex attacks on boys and making and possessing indecent images of children.
The attacks are alleged to have taken place between 1979 and 1999.
Mr Souter told Norwich Crown Court the indecent images had been sent by police investigating allegations against him.
He added: "I am accusing the police of getting these pictures sent to me.
"I am accusing Norfolk Constabulary of a lot more than that.
"They are pictures I had never seen until they appeared as if by magic on my computer after the investigation had started.
"They're not wearing shorts and are entirely incompatible with what I had on my computer."
'Deviant sexual obsession'
Mr Souter, of Loddon, Norfolk, has previously accused prosecutors of intercepting emails sent between him and defence counsel.
The former presenter has been accused of having a "deviant sexual obsession" with boys in uniform, but said his interest in photographing youngsters was not sexual.
Jurors have heard that hundreds of pictures of boys in shorts and uniform were found on his computer, along with a small number of indecent images of children.
Asked by prosecutor Andrew Shaw why he had taken the pictures, Mr Souter said he had an interest in shorts and uniforms that was a hobby similar to stamp collecting.
'I photographed everything'
He added: "They were asked to pose but there was never any sexual interest whatsoever.
"The whole point of me taking pictures is people adopt poses that suit them - if there was any provocative pose, it was not at my suggestion."
Mr Souter said he always carried a camera and would take pictures of everything from "autumn leaves to street scenes", adding that the pictures of boys represented only a small part of his collection.
Witnesses have told the court Mr Souter asked them to dress in scout uniform and football kit for photographs while they were aged under 16.
Mr Shaw asked Mr Souter why he had "shredding" software, which can be used to destroy files, installed on his computer.
He replied: "I think any sane person has shredding software on their computer.
"If somebody sends me an image that is indecent or illegal against my will, I would shred it."
Mr Souter, denies 19 sex offences against seven boys aged between 11 and 16.
Mr Souter, who was also involved in the scouts and a social services youth mentoring scheme, also denies a further nine counts of making and possessing indecent images of under-18s.
He presented a number of shows for BBC Radio Norfolk from its launch in 1980 until the 1990s and has also presented for Radio Clyde.