Conservatory plan for Duke and Duchess of Cambridge's home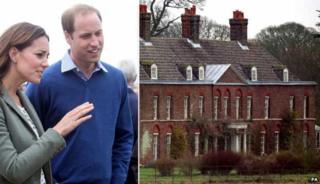 Plans for a new conservatory have been declared a matter of national security - because the room is for the Duke and Duchess of Cambridge.
The Queen has earmarked Anmer Hall in Norfolk as a family home for Prince William and Catherine.
The Borough Council of King's Lynn and West Norfolk had already granted permission for a new garden room.
But a further request has been made to change the original plan and instead install a glazed roof.
The council said it had received Home Office guidance citing "national security".
The letter, according to the council, said it could not put the conservatory request in the public domain given "the nature of the planning application".
Because the request is an amendment of previously approved plans, it will be dealt with by planning officers rather than being put before councillors, a spokeswoman for the authority said.
If permission is granted, the conservatory will form part of a wider scheme which includes re-routing the existing driveway, extending the garage block to include an equipment room and converting the wood stores into usable accommodation.
The Georgian Anmer Hall is part of the Sandringham estate and is about two miles (3km) east of the Queen's residence at Sandringham House.
The property has formed part of the Sandringham Estate since 1898 and was leased by the Duke and Duchess of Kent as their country house from 1972 until 1990.
The Grade II*-listed house has 10 bedrooms and dates back to about 1802, but some parts are much older.
It is currently the home of the Everett family, who run their timber business Norfolk Oak from The Old Stables.
The Home Office refused to comment.