Exporting waste 'cheaper than King's Lynn incinerator'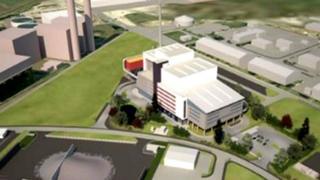 Millions of pounds could be saved if Norfolk County Council shipped its waste to Europe instead of building an incinerator, two reports have claimed.
Reports commissioned by UKIP group leader Toby Coke claim the alternative plan could save the council up to £88m.
Plans to build a waste incinerator at King's Lynn have been put on hold after political changes at County Hall.
Labour council leader George Nobbs said he welcomed a debate but was not convinced by the reports' suggestions.
A company called Rebel Group, acting on behalf of the owners of an incinerator in Amsterdam, has approached the council with an alternative scheme, involving shipping the county's waste to the Netherlands for disposal.
This would cost up to £34 a tonne less than Cory Wheelabrator, the council's partner in the King's Lynn scheme, would charge.
Mr Coke, whose party has 14 seats on the council, commissioned reports from Dr Chris Edwards of the University East Anglia and consultants Eunomia into the proposals.
The Eunomia report "strongly suggests" that Norfolk's taxpayers would be better off if the county's waste was exported to the Netherlands.
'Absolutely crazy'
Dr Edwards concluded there was a "strong case" for the government to withdraw its waste improvement grant of £169m to the council since it would commit the authority to an incinerator that was not good value for money.
Should this happen, he said, the council could save between £18m and £88m over 25 years by adopting the Rebel Group plan, depending on the cost of terminating its contract with Cory Wheelabrator.
Dr Edwards said excess capacity in European incineration plants would only push charges down, and that the council had got itself into an "absolutely crazy" situation by pursuing the King's Lynn scheme.
"I've been arguing for two-and-a-half years that this should not go ahead and I have produced figure after figure which is borne out by the information that has leaked out from Norfolk County Council," he said.
The King's Lynn project has been in jeopardy since the Conservatives lost control of the council in May's elections.
'Divisive issue'
A vote on whether to abandon the plans was put on hold in June after a council report said ditching the scheme could cost £90m in termination fees.
Mr Coke said the Rebel Group proposal would be able to deal with all of Norfolk's waste, could be up and running within a year, would not require government subsidy and would benefit taxpayers.
He said the incinerator had been a divisive issue, and called for an extraordinary general meeting of the council to discuss the scheme.
"We have got to clear the air, get rid of the incinerator and move forward," he said.
Council leader Mr Nobbs said: "Toby has made a very strong case for having a meeting. I don't say he's made a strong case for his alternative."
He said the meeting should be held this month, once the council had received two reports it had commissioned into the project.