Ex-BBC Norfolk Michael Souter 'victim of conspiracy'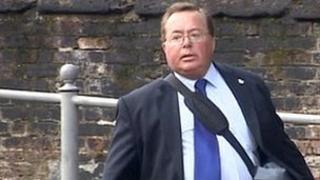 A former BBC Norfolk presenter accused of sex offences against boys has told a jury he is the victim of a conspiracy to smear his name.
Michael Souter, 60, told Norwich Crown Court he was "not daft enough" to put indecent images on his computer in 2010, after his initial arrest.
He denies 19 sex offences against seven boys and nine counts of making and possessing indecent images of children.
The allegations date from 1979 until 1999.
Computer 'compromised'
Asked why police found indecent images of boys on his computer after his arrest, Mr Souter said he had never seen the pictures before they were brought to his attention by detectives.
"If I was in the habit of storing these kind of images on my computer there would be hundreds, just as there are hundreds of shorts and uniforms," he added.
"They started to appear on my computer in 2010 after the police investigation started - I'm not daft, I would hardly be storing images like this after I had been arrested.
"I've become anxious for many years that my computer has been compromised and I have no doubt whatsoever somebody has been putting these images on my computer in an attempt to do me down.
"Whoever has been doing this has been doing some pretty nasty stuff and it's only part of what has been going on."
'Collecting stamps'
Mr Souter said he had a fetish for shorts, uniforms and spanking but liked to be the submissive partner and play the younger person during role plays.
He said he had a "bit of bisexuality in me" but that extended to older men only.
"I liken it to collecting stamps but in no way did that fetish carry over into liking younger persons."
The court heard Mr Souter, of Loddon, Norfolk, frequented "hook up" websites, particularly those catering for spanking and "adult schoolboy" fantasies.
Although he had occasionally met up with people he contacted online, this was rare, he said.
Mr Souter presented a number of shows for BBC Radio Norfolk from its launch in 1980.
Since 1989 he had worked as a freelance broadcaster and now runs a media relations consultancy.
Prosecutor Andrew Shaw showed Mr Souter a series of pictures of boys in uniform which were found on his computer and asked him if they featured pre-pubescent boys.
'Acted cool'
"I don't know," he replied.
He denied he had "acted cool" to groom boys, adding: "That was the position I was in, I shared what I could with whoever I could.
"The children in question wanted to spend time with me."
Mr Shaw asked Mr Souter if had taken boys to football matches and trips abroad and introduced them to "impressive" figures in the media, in an attempt to groom them.
"I was trying to do my bit for the community, which I have tried to do throughout my life," he said.
He said some of his alleged victims had collaborated with one another to concoct the allegations against him.
Mr Souter also accused the prosecution of accessing emails sent between him and defence counsel.
The case resumes on Wednesday.