Ex-BBC man Michael Souter 'dressed as schoolboy for spankings'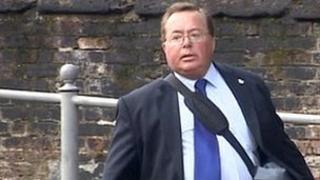 A former BBC presenter accused of sex offences against boys told a court he liked to dress up as a schoolboy and be spanked to relieve stress.
Ex-BBC Radio Norfolk broadcaster Michael Souter, 60, told Norwich Crown Court he would visit a "head teacher" in order to be "disciplined".
He denies 19 sex offences against seven boys and nine counts of making and possessing indecent images of children.
He said he was "astounded" and "flabbergasted" at the allegations.
The jury has heard that he was arrested in September 1993 after sexual abuse allegations were first made, but that the Crown Prosecution Service decided not to pursue the case.
The court was told a number of items were found by police at Mr Souter's home, including numerous pairs of schoolboy shorts, bamboo sticks and sex toys.
In police interviews Mr Souter, of Loddon, Norfolk, said he liked to dress as a schoolboy "to regress to a time when people loved and cared for him and bought him presents", the court heard.
Role-play 'important'
Under questioning by defence barrister Andrew Hill, Mr Souter said: "The bottom line is in periods where I was under extreme stress it was a way of escaping from the stress and being able to deal with it.
"I've never been one for going the doctor and saying 'I'm under stress, please prescribe something'."
Mr Souter said this role-play became an "important" part of his life in about 1992 or 1993.
"I would dress up as a schoolboy. Most often it was a case of going to see somebody who was playing a headmaster or a housemaster," he said.
"You would bend over in your shorts and be slippered or caned."
Mr Souter detailed one homosexual "casual encounter" that took place while he was in Royal Navy, but said he was heterosexual.
The court had earlier been told he gave alcohol to one boy, who cannot be named for legal reasons, before abusing him.
Mr Souter said teenagers who visited his home were sometimes allowed to drink beer, but that none had ever been drunk.
Asked if he had assaulted another boy, Mr Souter said: "Absolutely not. I was flabbergasted when it was put to me.
"I was astounded when I heard it."
But he admitted there was an occasion on which one boy had performed a sex act on him.
Asked how this fitted with his claim to be heterosexual, he said: "I wish I could explain.
"I've always had a bit of bisexuality in me.
"It happened. That's it, really."
Mr Souter presented a number of shows for BBC Radio Norfolk from its launch in 1980 until the 1990s.
Since 1989 he has worked as a freelance broadcaster and runs a media relations consultancy.
The trial continues.