Triumph Herald that had done 20 miles in 52 years fetches £13,500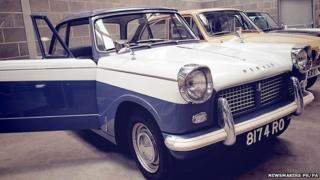 A Triumph Herald that has covered only 20 miles since it rolled off the production line 52 years ago has been sold at auction for £13,500.
The blue and white car, described as a "classic car with one careful lady owner", was sold by East Anglian Motor Auctions in Wymondham on Saturday.
Alexandra Sawicki, from the auction house, said the car, still with its 1961 £15 tax disc, had gone overseas.
The car had originally been delivered to the buyer's Norfolk home by trailer.
After the owner died years later, the family sold it back to the car dealer who had sold it to her.
Ms Sawicki said the Triumph had been "the star of the show" at the weekend.
"Absolutely hundreds turned up [to the auction]," she said.
"It was certainly one of the busiest classics sale that I have worked."
The car had been expected to fetch between £12,000 and £15,000.