Cley Marshes nature reserve to expand by a third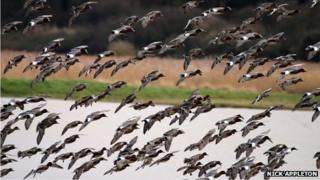 Norfolk Wildlife Trust plans to expand one of its nature reserves by a third after securing a £1.5m lottery grant.
The charity sought to raise £1m to buy 143-acres (57.87 hectares) of land around Cley Marshes after a private owner put it up for sale.
It said the grant would buy the plot, between Blakeney Point and Salthouse, and pay for a new education centre.
The rest of the money, including £800,000 it had raised in donations, will go towards habitat restoration.
The reserve is home to a number of endangered bird species, including the marsh harrier, avocet, spoonbill, bearded tit and bittern.
Cley Marshes was Norfolk Wildlife Trust's first reserve, which it bought in 1926. More than 100,000 people visit it each year.