Norfolk Broads: Peter Henry Emerson book sells for £66,000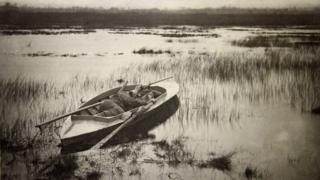 A "rare" Victorian book featuring pictures of the Norfolk Broads in the 19th Century has been auctioned for almost triple its guide price.
The compilation of pictures by photographer Peter Henry Emerson was one of just 200 copies and was expected to sell for about £25,000 on Thursday.
But it eventually sold for £66,000 at Keys Fine Arts Auctioneers in Aylsham.
Sarah Prior, book manager at the auction house, said: "As it kept rising we just thought 'Wow!'."
Life and Landscape on the Norfolk Broads is so rare because the photographer smashed all the original plates once it was published.
Ms Prior said: "It's one of those books that we thought we would never see until this copy appeared.
"We're really thrilled.
The 81-page book, nearly A3 in size, belonged to a lady from Norfolk and had been in her family since it was published in 1887.
Each image includes an explanation, written by Emerson and artist Thomas Frederick Goodall.
The copy has been bought by a private collector living in London.
Emerson was born in Cuba in 1856 and moved to England when he was a teenager where he championed a natural approach to photography.