Super Furry Animals' Cian Ciaran plays wind turbine protest gig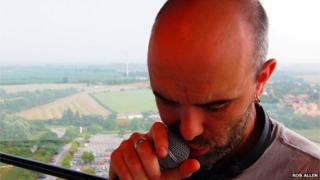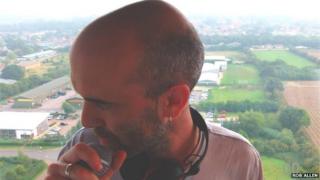 The keyboard player from Super Furry Animals has performed a protest gig for seven people at the top of a wind turbine in Norfolk.
Cian Ciaran, 37, played a 40-minute set at the 200ft-high (61m) turbine in Swaffham to show his opposition to the government's nuclear programme.
The invited audience included Ciaran's partner and their one-year-old son.
The government says it wants a new generation of nuclear plants as the UK faces a shortage in energy capacity.
In March, energy secretary Ed Davey gave planning consent for French energy firm EDF to build Hinkley Point C in Somerset.
It is the first of a proposed new generation of nuclear power plants in the UK to be given the go-ahead.
Ciaran said: "There is evidence here today that we have the technology to combat climate change and we don't need the current government to be taking us down this route.
"Look at Germany as an example, they installed the equivalent of one nuclear power station a year which is solar energy.
"It seems futile to even think about building nuclear power stations. It's a waste."
The songwriter and producer performed tracks from his album, They Are Nothing Without Us, on an enclosed viewing platform.
He said climbing the 305 narrow steps, with his equipment, was not for the "faint-hearted".
"It is high and it is impressive," said Ciaran.
"It's quite awe-inspiring to see how ever many tonnes of metal being spun around by the power of wind."
The world record for the highest gig is held by Kim Wilde and Tony Hadley, who performed at 43,000-feet in a plane in March for Comic Relief this year.