Sprowston and Old Catton 3,500-housing scheme gets approved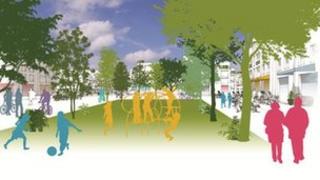 Plans for more than 3,500 homes on agricultural land north of Norwich have been approved.
Two schools, a park, health centre, library, hotels, cafes, businesses and shops are also included in the proposal by developers Beyond Green.
But Broadland councillors have attached conditions to the scheme for land at north Sprowston and Old Catton.
The Campaign to Protect Rural England (CPRE) has described the development as "excessive".
David Hook, chairman of the planning group for CPRE, said the development would affect the "attractiveness of the countryside".
More than 60 letters opposing the plan for land between Wroxham Road and St Faiths Road were received by the council.
Concerns ranged from increases in traffic, building on green belt instead of brown field sites and the lack of a high school to complement the proposed two primaries.
The developer said a third of the homes would be allocated to socially affordable housing.
The scheme would be built in six phases of 585 homes over 15 to 20 years, with work due to start in 2015.