Michael Souter sex abuse trial: Ex-BBC man tried to 'flush out accusers'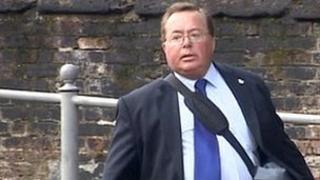 A former BBC presenter saved suspicious photographs on his computer to "flush out" those accusing him of sex offences against children, a court has heard.
Ex-BBC Radio Norfolk broadcaster Michael Souter, 60, denies 19 sex offences against seven boys.
He also denies a further nine counts of making and possessing indecent images of under-18s.
Mr Souter told Norwich Crown Court someone else was accessing his computer as part of a conspiracy against him.
He is accused of offences including indecent assault and indecency with a child against seven boys aged between 11 and 16.
'Smear my character'
The attacks are alleged to have taken place between between 1979 and 1999.
In statements found at his home and read to the court, Mr Souter, of Loddon, Norfolk, said he had been under police surveillance for a decade and decided to act in a suspicious manner in an attempt to highlight the campaign against him.
He wrote: "This escalating situation has become particularly difficult over the last two or three years.
"I have become absolutely convinced that an unknown person or persons have been accessing my computer, my email and personal chat accounts.
"I'm now convinced that a number of people are carrying out a determined campaign to smear my character."
Describing how he had deliberately placed files, which he claimed were not indecent but might look suspicious, on his computer, he said: "While I accept this is a risky strategy, I am doing all I can to bring this stressful matter to a head."
Prosecutor Andrew Shaw said the images were classed from level one, the least explicit category under the law, to five, the most serious.
'Liked being spanked'
They were found when police examined Mr Souter's computer in 2011.
The photo files were sent to his email address beginning with the words "greyshorts".
Alleged victims have told the court that Mr Souter would wear boxer or sports shorts while abusing them.
In police interviews read to the court, Mr Souter said he liked being spanked by older men, adding that he was "a little bit bisexual" but had no attraction to young boys.
He explained why he had an adult-sized scout uniform at his house, alongside a 1950s-style schoolboy outfit, rubber shorts, pornographic magazines, videos and audiotapes.
Mr Souter, who has also been involved in the Scouts and a social services youth mentoring scheme, said: "I think it was for a photograph for a Scout magazine article on old uniforms."
Prosecutors allege Mr Souter, originally from Scotland, used his local celebrity and position of trust to engage boys in sexual activity.
He presented a number of shows for BBC Radio Norfolk from its launch in 1980 until the 1990s.
Since 1989 he has worked as a freelance broadcaster and runs a media relations consultancy.
The trial is expected to conclude next month.