Cromer shootings: Norfolk council leader Keith Johnson beat wife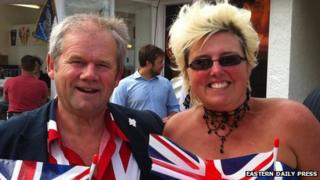 A respected council leader whose personality could "change like the devil" subjected his wife to almost a decade of abuse before shooting her dead, a report has found.
Keith Johnson, 58, leader of North Norfolk District Council, killed his "trophy wife" Andrea, 44, and then himself in Cromer on 2 December.
Mrs Johnson's suffering was revealed in a harrowing diary found after she died.
The report said people may have found it "unthinkable" she was being abused.
The contents of the domestic homicide review were disclosed after the conclusion of the inquest earlier.
Coroner William Armstrong ruled Mrs Johnson was unlawfully killed and Mr Johnson killed himself.
He said the killing was "deliberate" but the deaths could not have been "foreseen".
The review, a statutory requirement in domestic violence deaths, found those who knew the couple might have failed to spot warning signs because they were blinded by their public image.
Referring to the couple only as Mr B and Mrs A, report author Gaynor Mears said: "His public persona and high standing in the community may have made it unthinkable that he was abusing Mrs A in the privacy of their own home.
"Indeed, there is still incredulity in some quarters that Mr B shot Mrs A then took his own life."
The diary kept by Mrs Johnson since 2004 was discovered during the investigation into their deaths.
In one of the earliest entries, written in March of that year, she said: "He doesn't seem bothered he is hurting me, said I either like it or lump it, he ain't going to change."
Later she described how he would "change like the devil" when they were alone.
The report describes how the couple, who had been together since 1994 and had married in 2004, were in an "open relationship" with both having affairs.
Witnesses told the inquest Mr Johnson treated Mrs Johnson, described as younger and attractive, as a "trophy wife".
The day before the killing, Mr Johnson asked his wife to leave the house because he thought she was impeding his career.
'That monster'
She went to stay with a man who she was in a relationship with.
The next day Mr Johnson asked her to come back to the house to talk things through but was lying in wait, ready to shoot her with her own shotgun.
He had left instructions on the disposal of the estate and for their funeral. Three unspent cartridges were found by his side in the bungalow and Mrs Johnson's body was found on a driveway.
Concluding the report, domestic violence expert Ms Mears said: "There is a tendency to think that domestic abuse does not happen in affluent areas and it does not happen in relationships such as Mrs A's and Mr B's.
"This case graphically demonstrates how the public face of an individual can be very different to the one behind closed doors.
"The phrase 'it doesn't happen here' needs to be dispelled."
After the inquest, Mrs Johnson's brother, Brian Chadwick, said: "I am deeply saddened that Andrea suffered in silence through more than a decade of abuse at the hands of that monster, Keith Johnson - a man who we trusted and let into our lives.
"He was controlling, as well as physically, verbally and sexually abusive and, when my sister tried to leave him, he killed her for it.
"People now know the real man behind his precious chain of office."