Norfolk dig uncovers Anglo-Saxon oven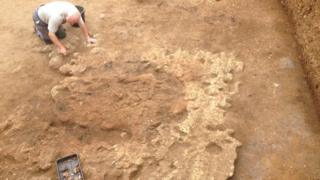 A structure uncovered by archaeologists in Norfolk has been confirmed as a 1,300-year-old "rare, multifunctional oven".
The Anglo-Saxon oven was found during an annual dig in Sedgeford, near Hunstanton.
Supervisor Dr John Jolleys said it would have been used to bake bread, malt barley and dry grain.
A second oven and a Saxon pot have also been discovered.
The volunteers initially thought the oven dated back to the Roman times, but the discovery of part of the Ipswich ware pot dated the oven to between AD650 and 850.
'Very significant'
"We've worked out how it works," said Dr Jolleys.
"It's almost certainly a rare, multifunctional oven, with a shelf like a pizza oven for bread, and you could have finished off the malting process for barley and dried grain."
The pot was made in the Ipswich area and was "robust but crude and used like amphorae in the Roman empire for transport," he added.
The archaeologists uncovered about 80% of a second oven, which they plan to excavate fully next year.
Dr Jolleys said geophysics suggest there may be two other ovens yet to be uncovered.
"[The oven's] not for a family, it's for a settlement and I think between 50 and 100 people would have lived here," he said.
"I think we have found an area which could be very significant in our understanding of the evolution of Anglo-Saxon communities, as society becomes organised into settled communities as part of the early kingdoms of England."