Barclays bank staff in Acle 'threatened by man with blowtorch'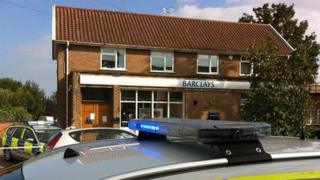 A man who allegedly threatened bank staff in Norfolk with a blowtorch has been shot with a Taser and arrested, police said.
Officers were called to the Barclays branch in The Street, Acle, at about 12:20 BST after reports of a 60-year-old man making threats inside the bank.
Police confirmed no members of the public or staff were hurt during the incident.
The bank remained cordoned off while police carried out further inquiries.
A spokeswoman for Barlcays said the bank was not able to comment as the incident was "subject to a police investigation".
The branch will be open as normal on Tuesday.