Norfolk Broads: Rare plants colonise Salhouse bank restoration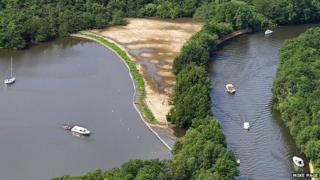 Restoration work to save a Norfolk Broads reed bed threatened by erosion has seen more than 30 plant species, some of them rare, colonise the area.
Four bags, 8.5m (28ft) wide and 18.6m (61ft) in circumference, were used to create a 170m (558ft) bank on the River Bure at Salhouse Broad last October.
Seeding of the geotextile bags has now encouraged the growth of nationally scarce marsh fern and milk parsley.
The £240,000 project aims to restore the reed bed as it was 60 years ago.
Turfs were scraped from reed beds on the Bure Marshes National Nature Reserve at Woodbastwick and planted on the bags, while the seed of common reed and common reedmace was scattered by hand over the bare sediment.
William Coulet, from the Broads Authority, said: "We are delighted that the plants, particularly the rare ones, are colonising so quickly.
"We expect it to take two years to colonise the entire site with the desired species, but when it does we hope that the site will function as a corridor for wildlife in the Bure valley."
Other plants to have colonised the site include common reed, greater pond sedge, celery-leaved buttercup, marsh valerian, purple and yellow loostrife, yellow flag iris, fen bedstraw and water mint.
Mr Coulet added: "The vegetation would come from natural colonisation but this takes a long time so we've scraped plants from a nearby site. We were hoping for it to establish quickly, but the results are excellent."
The site has been temporarily fenced off to protect the tender shoots from wildfowl.