More than 6,000 jobs go at councils in East of England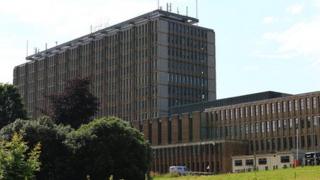 More than 6,000 jobs have been lost by county councils and unitary councils in the East of England since 2010, while a further 6,886 have been outsourced, a BBC investigation has revealed.
The Politics Show also found at least 1,200 staff cuts are in the pipeline.
This includes the announcement on Thursday that Norfolk County Council was looking at 780 job cuts over the next three years.
When services are outsourced, staff transfer to the new employer.
A BBC Politics Show study asked for the number of jobs lost and outsourced since 2010 at Cambridgeshire, Essex, Norfolk, Northamptonshire and Suffolk county councils and at the unitary councils Bedford Borough, Central Bedfordshire, Luton, Milton Keynes, Peterborough and Southend.
It found Suffolk was a big outsourcer with 4,000 jobs transferred to outside organisations and 843 job losses.
Norfolk has seen 776 redundancies with 1,730 jobs transferred.
Professor Paul Whiteley, of the University of Essex, questioned how councils could "be sure that quality of services are preserved and standards are maintained if something has been outsourced".
Richard Fuller, Conservative MP for Bedford, said: "I think the effectiveness of a local council is not based on how many people it employs, but on the effectiveness of the services.
"We have had years and years of council tax increases. It is right the councils look for savings and consider private companies and charities (to provide services)."
Andy Sawford, Labour MP for Corby, said it would be "irresponsible" to say a Labour government would reverse any cuts to council budgets as the party does not "know how bad the situation is that we inherit in three years time".