North Norfolk to get extra 65 ambulance staff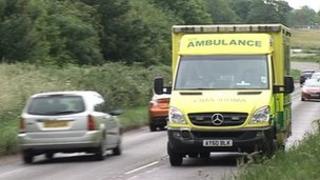 More than 60 new ambulance staff have been promised for north Norfolk to help improve the slowest response times in East Anglia.
East of England Ambulance Service NHS Trust said it aimed to recruit between 300 and 360 new frontline staff in the next financial year.
It said about 65 of these would be allocated to North Norfolk.
A trust spokesman said: "Improving our response times is a particular priority of ours in this area."
The trust aims to respond to 75% of life-threatening incidents within eight minutes, but in north Norfolk this figure has fallen as low as 29%.
It is planning to finance the new staff, including paramedics, emergency medical technicians and emergency care assistants, by redirecting £20m from its support services
The planned deployment of new staff was announced at North Norfolk Clinical Commissioning Group governing body's public meeting on Tuesday.
Chairman Dr Anoop Dhesi said: "We look forward to seeing this part of the trust's integrated action plan being delivered."