Mike Souter sex trial: Abuse 'was everyday experience'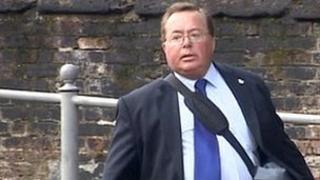 A man has told a court how a former BBC radio presenter sexually abused him repeatedly when he was a teenager.
He said ex-BBC Radio Norfolk broadcaster Michael Souter, 60, abused him at his home, in a caravan and in hotels in Tenerife and Florida.
The man, who cannot be identified for legal reasons, said the abuse became an "everyday" experience.
Mr Souter, of Loddon, Norfolk, denies sex offences against seven boys aged from 11 to 16.
They are alleged to have taken place between 1979 and 1999.
'Silky' shorts
Giving evidence from behind a screen, the man told Norwich Crown Court he was first abused at Mr Souter's home when he was 13.
He said Mr Souter, wearing a dressing gown and "silky" shorts, called him into his bedroom "for a hug", but began tickling and touching him sexually.
The alleged victim said the abuse got more serious and continued for nearly two years.
He said he was once abused on the stairs while Mr Souter's mother was in a nearby bedroom.
"I remember him being excited that he could be caught," he said.
'1950s schoolboy outfit'
The man said he found a key to a locked chest in Mr Souter's bedroom.
Inside was a "1950s-style" schoolboy outfit, an adult-size Scout uniform, rubber shorts and pornographic magazines, videos and audio tapes, he said.
The man said he stole a vial of bromide from his school science laboratory.
"I had learned that in one of the wars, they had given it to soldiers to reduce sexual desires," he said.
"I was going to put it into Mike's tea."
But he said he never used it and Mr Souter found the substance.
'Horrible things'
The court heard the man first made allegations of abuse to police in September 1993, but they were not followed up.
Andrew Hill, defending, suggested the man had made up the claims after threatening to "ruin" Mr Souter and his business.
"No," he said.
Asked why he later visited Mr Souter if he had done "horrible things" to him, the man said: "I had been abused for nearly two years. I was confused."
Mr Hill suggested the man's own behaviour had been "overtly sexual" and Mr Souter "had to put his foot down".
"No, that's not how it was," he replied.
'Don't tell anyone'
Earlier, another witness said he saw a different teenage boy perform a sex act on Mr Souter in his caravan.
"A few days later Mike told me not to mention it to anybody else," he said.
Under cross-examination, he denied he and the other boy had got together to fabricate the allegation.
"This is 23 years ago but it certainly happened," he said.
The trial continues.